Creative space for creative thinking
With its mixture of stripped back industrial elements, leaving a stylish blank canvas that's a perfect backdrop for company branding or flamboyant theming, it's about as far away from a stuffy function room as you can get! Come and take a look, we'd love to give you a tour!
A versatile space that enables you to create the perfect layout
Fantastic local and seasonally inspired in-house caterer
Experienced event staff to help plan and execute your day perfectly
Free high strength wi-fi and powerful in-house sound system
Stunning outside courtyards for fresh air breaks and drinks receptions
Free on-site parking for up to 40 cars
Close to city centre and Temple Meads with excellent public transport links
Our current client list includes: BBC, Sunday Times, Google, Foilco, Dyson, Clarks, Royal Bank of Scotland, Ernst & Young, Santander, Sustrans, KPMG, Nisbetts, Asdan, Linda McCartney, RIBA, Arup, Deloitte, Business West and AXA.
Visit The Space for floorplans and technical info.
Capacities
The Event Space works well for all events, these are our standard capacities:
Theatre style seated 300
Cabaret style for dinner/dance 270
Standing reception 350
Theatre area only 80
Hire rates
Full day and evening (8am -12 midnight)
Commercial event or ticketed event rate (8am - midnight) £1800
Private full day + evening hire for 100+ delegates (8am - midnight) £1800
Private full day + evening for less than 100 delegates, charity or non-business event £1500
Full day hire (8am- 6pm)
Filming day hire £1250 - £1500
Standard Company hire for 70+ delegates £1500
Charity/Public Sector/Education or less than 70 delegates £1250
Half day hire (8am- 1pm or 1pm - 6pm) £950
Set up the day before £500-£800 depending upon times
Car Launches and Events (Includes up to 8 cars in the venue)
1-2 day hire £2500 + vat per day
3 days or more £2000 + vat per day
Hire rates include:
Exclusive venue hire with use of 2 outside courtyards
Venue tables and chairs
Venue staff to ensure your day goes smoothly
Hi-strength wi-fi throughout space
Festoon lighting and In-house sound system
Free parking on site for up to 40 cars
static screen
All prices are subject to VAT and discounts will be given if consecutive days are booked.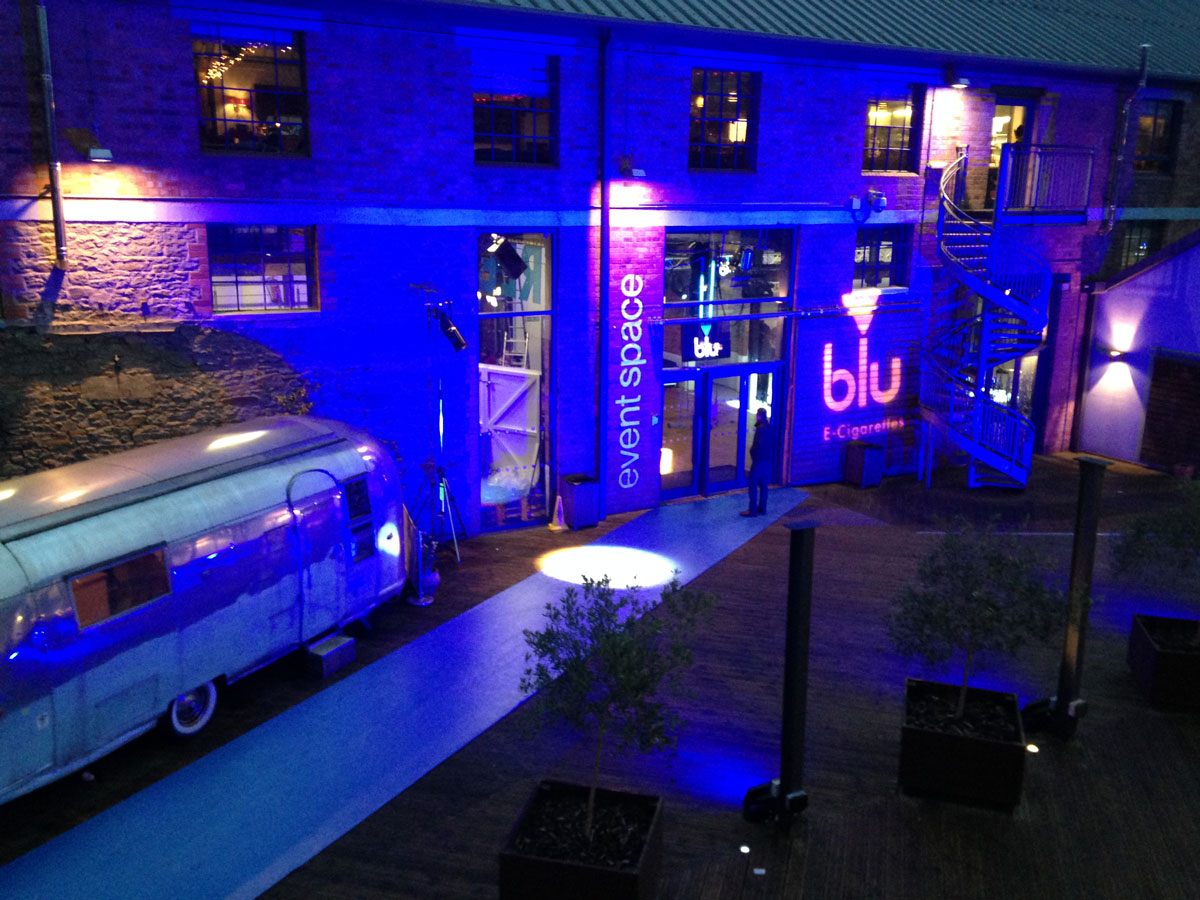 Night time Launches and Parties
Paintworks has an exciting after dark atmosphere and we've hosted some really memorable product launches and award ceremonies in recent years. When the space is lit up at night it looks stunning and creates an impressive and high impact backdrop for any important company occasion or celebration.
Catering
Our in-house caterers will ensure your event is truly special, we use Relish for anything over 50 delegates, and Bocabar and Kate's Kitchen for smaller events. Working with the finest and often locally sourced ingredients, dishes have a homecooked and wholesome flavour that's hard to come by within business catering. All menus can be tailored to clients' needs, download sample menus for inspiration.
AV and Equipment
Our recommended AV supplier, locally based Pytch can supply staging, screens, projectors and sound equipment at excellent rates. This can usually be booked in for you directly by Paintworks Events staff and quotes for all equipment can be given immediately on request. It is also fine to bring in your own equipment, Pytch can provide technicians to ensure smooth running.
If you'd like to discuss your AV needs, let us know.