Dimensions, Specification and Sizes
Gallery / Event Space
3,500 sq.ft. (30m x 11m)
4.5m ceiling height, rugged concrete soffit with exposed central steel columns and roof joists. Painted concrete and wooden floors with change of level as shown on plan (2 steps only). Portable disabled access ramp available. Natural light from high level windows. Incorporates original brick lift shaft and double doors on to a 4,000 sq.ft. licensed courtyard, which can be used with the Event Space, weather permitting. Stairs from foyer area give access to toilets.
Theatre Space
945 sq.ft. (11m x 8m including optional seating area on viewing gallery above)
This is a continuation of the adjacent exhibition space but can be separated by a black-out curtain. Wooden floor with capacity for seating 140. High level windows have black-out blinds. This area is suitable for showing films, video artwork, theatre performances, smaller conferences and seminars and art installations.
Roof Girders
Ideal for attaching lighting rigs or suspending 3d artwork or sculptures, the maximum loading of the roof girders throughout is 100 kg/m.
Power
The space has three-phase and two-phase power supply as well as 36 standard sockets.
Included in hire:
High speed wi-fi
Built-in sound system and static screen
power
Heating
Venue furniture
Use of outside courtyards for receptions and fresh air breaks
This timelapse video shows the set-up of Carol Peace's '25 year - A Bristol Celebration' exhibition and allows you to see the transformation from blank canvas to bustling venue.
Video by Interval Films.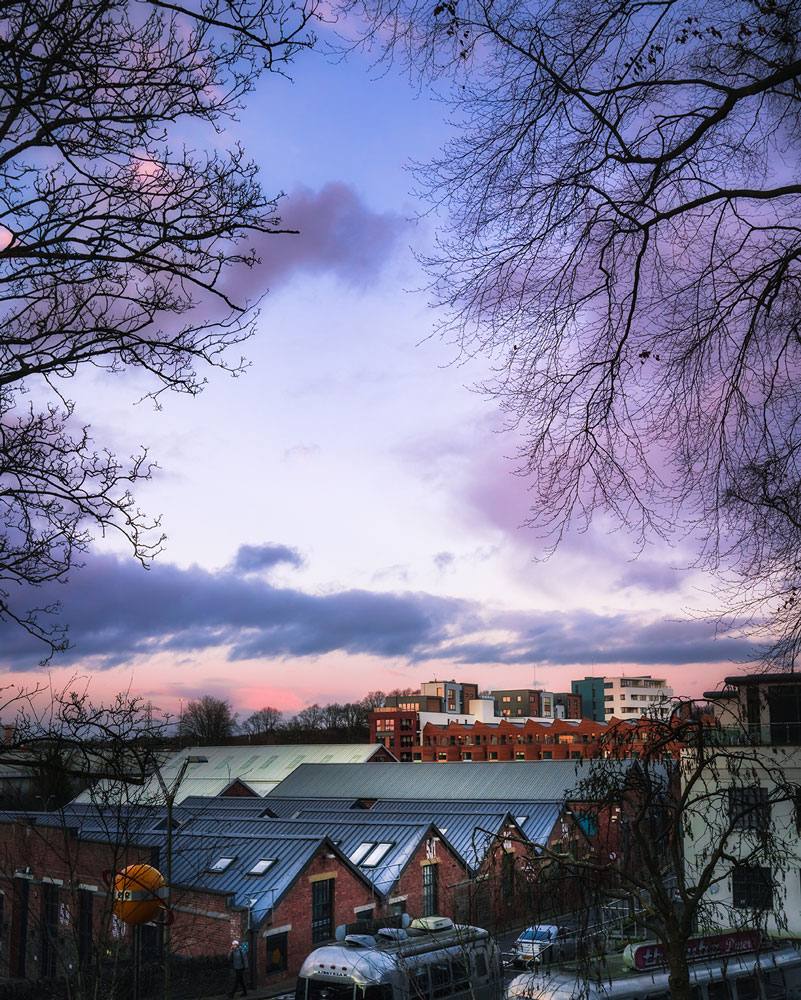 Green Credentials
Paintworks is the regeneration of 12 acres of industrial buildings along the banks of the River Avon, where many of the original buildings have been preserved and restored. Paintworks Event Space lies at the heart of this sustainable development and features double glazing, highly efficient heating and well insulated walls.
The site has a recycling policy, with a number of recycling points for glass, paper, cardboard, tins and plastic.
We have limited parking available on site and we encourage you to get to us via public transport if possible. We are located a 12 minute walk from Temple Meads train station and on the Main A4 bus route between Bristol City Centre and Bath.
Our in-house caterers are committed to using locally sourced products wherever possible and to supporting local suppliers.
Verve Properties, the owner and developer of the site has won and been nominated for a number of awards for the sustainability and regeneration of the site, these are:
The British Astronomical Association Sky Friendly Exterior Lighting Award, for preserving the visibility of our Universe!
Civic Trust Award 2008 (National Regeneration Awards by Regeneration Magazine)
Regenerate Magazine's National Award, 2007
Finalist in the 2006 Regeneration Awards for best mixed use regeneration project (Building, BD & Property Week Magazines) and 2007 runner-up.
More Information
If you would like more information about the suitability of Paintworks Event Space for your event, please contact our events team.